Explore Our Home Care Maintenance Plans
An investment in the heating, cooling and air quality system of your home is significant and should never be undervalued. These systems help to keep your family safe, happy and healthy, which is why we recommend finding a suitable maintenance plan.
You can't predict when your AC unit will break down, but you can prepare for it. With our maintenance plans, you can rest assured knowing that your AC unit is in good hands. We'll inspect it regularly and make sure it's running smoothly. If there are any problems, we'll fix them before they cause any damage. We recommend getting your AC serviced at least once a year in the spring to avoid inefficiencies or breakdowns.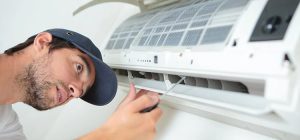 Routine maintenance can help to ensure that the system is functioning properly and efficiently, so you don't run into any problems down the road keeping your repair costs low and affordable. We service all brands of natural gas and propane furnaces and fireplaces plus all central air and ductless air conditioning systems.
One of our service and maintenance specialists would be happy to discuss the benefits of our maintenance plans. We have a plan to suit everyone's needs and pocketbook.
Central Air Conditioning Maintenance
We will check the thermostat operation, clean and inspect the evaporator coil, clean and inspect the condensate drain lines, clean the condensing unit, clean the blower and fan assembly, inspect all electrical wiring and connections, test the motors, fans, contractors, relays, transformers and controls, check refrigerant pressure and temperature, check voltage and amp draw, and check the air flow.
Gas Furnace Maintenance
When it comes to the maintenance of your gas furnace, we leave no stone unturned. Our maintenance plans include the following tasks:
Inspect Thermostat Operation
Inspect Electrical Wiring and Connections
Clean Gas Burner, Ignition, Pilot, and More
Lubricate Motor and All Moving Parts
Check for Leaks, Damage or Problem Areas
Clean and Adjust Blower and Compartment
Standard Furnace Filter Replacement
Gas Fireplace Maintenance
We will check and clean pilot assembly, check ignitor, test thermocouple/pile, check and clean burners, check gas pressure, check for gas leaks, check safety switch operation, check vent for blockage, check and clean glass door and gaskets, check gas logs, check operation of remote control, check for elevated Carbon Monoxide reading, and replace ember material.