Emergency Service Solutions You Can Count On
In the case of an emergency, it's important to be prepared. Our team of service experts can help you navigate any emergency with your home heating, cooling and ventilation system, no job is too big or too small. From unusual noises to complete system malfunctions, we are always here to help.
If you notice a problem with your system and require emergency care, book an emergency service call today. We will send a member of our team to your home as soon as possible to inspect the system, diagnose the issue and rectify the problem.
We service all brands of natural gas and propane furnaces and fireplaces plus all central air and ductless air conditioning systems.
To help reduce your inconvenience and downtime, we stock our trucks with every imaginable tool and part available. Not only that, but we also train our technicians to do the job efficiently and correctly – the first time.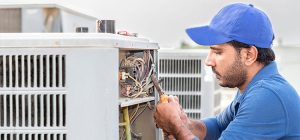 Don't worry about budgets!
We understand that it can be tempting to try to save money by doing the job yourself. Don't do it! AC repairs can be complex and requires specialized training. If you don't have the proper experience, you could do more harm than good.
At MH Heating and Cooling, we are proud to serve our customers with a flat rate pricing system. Following a diagnosis, we will provide you with a firm quote for the cost of the entire repair. Gone are the days of paying an hourly rate for slow service!
If you're looking for air conditioning services in Mississauga, Ontario, trust MH Heating & Cooling Solutions. We're a team of experts who are dedicated to your satisfaction. Contact us today to schedule an appointment.
Need Emergency Service? Call Us at 647-862-8248
24 Hours, 7 Days a Week, 365 Days a Year!
Client Testimonials
At MH Heating and Cooling Solutions we follow one simple rule
the customer is always right. We're proud to put our customers first and provide them with quality service that they can trust.
However, don't just take our word for it, read some of the reviews from our satisfied customers!
---
Excellent service provided by Hadi. I recommend MH heating and cooling for any kind of HVAC installation.
MH Heating and Cooling Installation team is one of the best I have ever seen. They installed a brand-new high efficiency furnace and Humidifier for me, they offered competitive rates and finished the job on time as agreed. Thank you, MH Team.
Amazing service MH gave us lots of choices for a new high efficiency furnace, explained the pros and cons of each. Installation was perfect and the new furnace performance was amazing. We called a few months later for a small issue with the thermostat which was not installed by them and they were here the next day and fixed everything up. Couldn't ask for more! I strongly recommend MH Heating and Cooling.
I loved the way Hadi and his team have worked. They were professional from start to finish. And the price we got the furnace for is also very reasonable. Highly recommend this company to everyone.
Hadi and his partners are polite, patient and detail-oriented when walking me through the scope of work and the product itself. They arrive on time and finish everything as promised. Would recommend to anyone in need of Furnace related services.