Ways To Improve Your Indoor Air Quality
Your home's indoor air quality is critical to your health, comfort, and even productivity. Repeated exposure to poor IAQ in your home can impact your quality of sleep and make those pesky allergies and asthma more intense. The physical symptoms people experience due to poor IAQ are more common than you may expect!
There are a few different ways to improve your IAQ, and they're often used in conjunction with each other, such as installing both a whole-home humidifier and an UV air purifier. Here are some examples:
Ventilation
The easy solution for ensuring ventilation is to simply open windows and doors. This is not always possible, especially if you're running your heating or cooling system, so installing a whole-house ventilation system will help you achieve this. Proper ventilation is the first step to improving your IAQ significantly.
Air Purifiers
Air purifiers are one of the most effective ways to remove contaminants from the air. They work by pulling in polluted air and passing it through a filter that removes harmful particles. With an air purifier, you can remove harmful particles such as dust, pollen, pet dander, and smoke. They also remove outdoor sources such as radon, pollution, and pesticides.
Humidifiers
Humidifiers help to keep the air in your home or office at a comfortable level of humidity. This can help prevent dry skin, static electricity, and even respiratory infections. It can even keep your wallpaper and furniture looking fresh for longer! The biggest thing here is the potential to reduce the chance of catching a virus, and reducing symptoms of allergies.
Dehumidifiers
Dehumidifiers help remove excess moisture from the air, which can help prevent mould and mildew growth. These can also help to reduce musty odours and make your space more comfortable. Dehumidifiers are a great option for use in your basement, laundry room, or kitchen.
UV Air Purifiers
UV air purifiers use ultraviolet light to kill bacteria, viruses, and other contaminants. This type of cleaner is especially effective at reducing airborne illness. Sometimes, UV air purifiers are used in conjunction with other air purifiers to provide the best possible IAQ.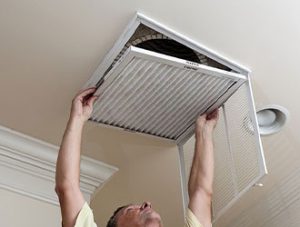 Indoor Air Quality Solutions
At MH Heating and Cooling Solutions, you can rely on us for all of your indoor air quality needs. Our indoor air quality (IAQ) solutions are designed to improve the quality of your indoor air, which can help you save money on your energy bills. We don't believe that you should have to choose between comfortable indoor air and low energy bills.
Most homes are only required to have the minimum amount of fresh air changes per hour to meet code. This often isn't enough to provide good IAQ, and it can also be expensive to heat and cool all of that fresh air. For example, opening a window to let in the fresh air makes your AC unit or furnace work significantly harder, putting undue strain on your unit and costing you more on your monthly bills. Open windows may also raise the humidity level in your home, and we all know how humid Milton can get.
You can enjoy fresh, clean air without breaking the bank with our energy-efficient IAQ solutions. Our services are optimized to provide the best possible IAQ to you and your family while saving you money. Coupled with excellent customer service, our team provides you with a great experience and a great result.
Next Post
Reasons Why You Should Consider Water Heater Maintenance